The AHC Promotes Cervical Health Awareness Month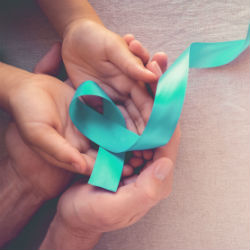 When the sexually-transmitted infection human papillomavirus (HPV) infects its victim's system, it threatens to cause an array of problems, including cancer and genital warts. More than 79 million Americans infected with HPV are in their late teens and early '20s, according to the Centers for Disease Control and Prevention (CDC), and a number of those infected often are at risk for developing cervical cancer. The American Health Council (AHC) is promoting awareness for Cervical Awareness Month, urging women to seek resources to combat the spread of HPV and other cervical health threats.
The CDC estimates that more 11,000 women in the U.S. develop cervical cancer annually. To fight the spread of the heinous disease, AHC encourages women to visit their primary physician to receive the HPV vaccine to prevent infection. Cervical cancer can be prevented with follow-up care and regular screening exams, as they can detect changed cells in its early stages before they turn cancerous. As the majority of HPV-infected individuals are young, the AHC urges parents to create open conversations with their children about HPV, its dangers, and the importance of cervical health. HPV is not gender-specific, as it affects males and females alike, therefore the CDC suggests that parents ensure that their children receive the vaccine.
Although January is the designated Cervical Health Awareness Month, AHC advises women to visit their physicians, obstetrician and gynecologists regularly to ensure that their cervical health is at its optimum. The initiative serves as a reminder for women to seek those services, as most insurance plans are obligated to cover well-woman visits and cervical cancer screenings at little to no cost, according to the CDC.
In a time where a large portion of the population is social media savvy, it's time to put those skills to use by spreading awareness on all social media platforms. The ultimate goal is to spread cervical health awareness nationwide by retweeting articles on Twitter, tagging friends in Facebook posts, and visiting websites geared to educate the public on cervical health, including the CDC, Planned Parenthood, and the National Cervical Cancer Coalition, among others. Stay informed and help save lives.
https://healthfinder.gov/NHO/JanuaryToolkit.aspx
https://www.cdc.gov/std/hpv/stdfact-hpv.htm
https://www.plannedparenthood.org/learn/stds-hiv-safer-sex/hpv
About the American Health Council:
The American Health Council is the nation's only organization with a constituency representative of all sectors of the healthcare industry. From the coasts to the heartland, the American Health Council has drawn Affiliates from major metropolitan hubs and small communities. These Affiliates span generations and have reached different stages of their careers — from recent graduates to retirees. More information about the American Health Council and its mission can be found at: http://americanhealthcouncil.org.
Additionally, the American Health Council strives to provide recognition and support for those individuals and institutions making the difference in patients' lives day in and day out. Throughout 2018, the AHC is honoring "America's Best Doctors and Nurses," as well as the nation's best medical universities and hospitals. The American Health Council's "Best in Medicine" and "Best in Nursing" awards programs honor the individuals and institutions that have contributed significantly to medicine and nursing, as well as the training and education of physicians and nurses. The most current selections for these honors may be viewed here: http://bestinmedicine.org and http://bestinnursing.org.
For media inquiries contact us here.