You are here:
Home
/
Affiliate Updates
/
The American Health Council Honors Emma May, BSN, RN, OCN as "Best in N...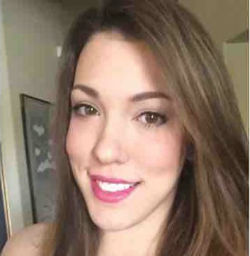 Emma May, BSN, RN, OCN was recently recognized by the American Health Council as "Best in Nursing" for her dedication to improve others' lives. A clinical registered nurse coordinator at Western Connecticut Health Network in Norwalk, Conn., Ms. May ensures that patients receive immediate and adequate treatment. While she has held her current role for over one year, she has spent the last two years garnering skills and knowledge in oncology nursing and breast cancer.
From an early age, Ms. May always knew she wanted to become a nurse to help others. When her teacher asked her what profession she wanted to pursue in kindergarten, Ms. May cheerfully replied, "a nurse." She pursued her dream by enrolling at Grand Canyon University's nursing program, and earned a bachelor's degree in nursing in 2015, with Magna Cum Laude honors. She was a member of the GCU Scottsdale Student Nurses Association and the Phi Theta Kappa Honor Society. Her career quickly soared as she accepted a surgical, telemetry, oncology nurse role at HonorHealth in Phoenix, Ariz., in 2016. Certified in oncology nursing, she decided to specifically pursue oncology, as she hails from a family history that contains various forms of cancer.
The following year, she served as an oncology registered nurse at Stamford Health, and later, accepted the clinical registered nurse coordinator role at Western Connecticut Health Network. Ms. May is responsible for overseeing symptom management at the center, as well as teaching chemotherapy techniques and its symptoms. In addition to performing daily rounds, she offers moral support to all patients to help establish comfortable mood during their treatments and visits to Western Connecticut Health Network.
As her career continues to flourish, Ms. May has affiliated herself with several associations, including the Oncology Nursing Society and the American Nurses Association, to ensure that she remains connected with her peers. In her free time, she enjoys reading and running, as well as volunteering for several local causes. Ms. May attributes her successful career to her parents' support and encouragement, as well as her passion, motivation and dedication for her career. She plans to continue to fulfill professional achievements by ultimately obtaining her master's degree in nursing, working in an outpatient setting, participating in clinical trials and research and create a community to combat breast cancer.
Occupational Health Program Coordinator At Norwalk Hospital 
They approach their work with the highest standards of openness, honesty and ethical behavior, with freedom from any inappropriate influence or motive.
They provide clear guidance as to behavior expectations and motivate us by promoting a sense of belonging and pride.
Western Connecticut Health Network envisions to be the preferred partner in health and provider of care for the communities we serve and will be among the most respected community healthcare systems in the nation.